for information / pour des renseignments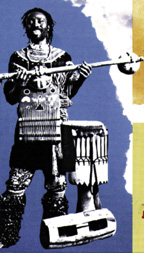 "I am very lucky in life," says Njacko Backo. "...Music can cure people. It's universal, it's spiritual."
He grew up in an African village surrounded by music, with a mother who always sang and danced, and a grandmother who, to her dying days, played the didjeridoo for the local kids.
"Music can cure people. It's universal, it's spiritual. ...There's magic there. We as human beings cannot even describe it. It's so strong that it's impossible to define what music is. You can't know."
Complete interview: Published February 25, 1999 www.toronto.com
Lode Yeuk

(ALS-9901 ALIAS RECORDS / FESTIVAL DISTRIBUTION)

With his group Kalimba! Kalimba!, Backo brings the smooth plucking of the thumb piano to the forefront on Lode Yeuk. He sets up gradually unfolding dialogues between his specially designed homemade kalimbas, filling out the delicate tapestries with congas, shekere and bata percussion, guitars and unobtrusive vocals to create a rich, percussive sound that emphasizes the space between the notes as much as the notes themselves. Subtle yet substantial. Backo brings his kalimba collection to the Bamboo this Saturday.
for information / pour des renseignments